Principal retires after 37 years with Trumann School District
Sunday, June 14, 2015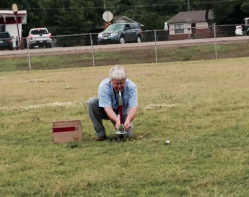 In 1979, Bobby Benson started his career in the Trumann School District as a 5th grade teacher on the Cedar Park campus. Thirty-seven years later, he is retiring as the Trumann Intermediate School Principal. After so many years in one district, Benson said the decision was a tough one to make.
"I'm going to miss the students, the faculty, and just everything about the job," he said.
Benson taught at Cedar Park until 1985. Although he taught science, math and literacy to his 5th graders, he loved teaching hands-on science the most.
"Most of my students remember me as a science teacher, because I really liked to make it interesting," Benson said. "I found out early on that if your students were happy, enjoying your class and learning, being a teacher was an easy job. I wanted to be the type of teacher that I wanted in school."
See the 6-11-15 edition of the Poinsett County Democrat Tribune for the full story.