Trumann Farmer's Market opens
Monday, June 15, 2015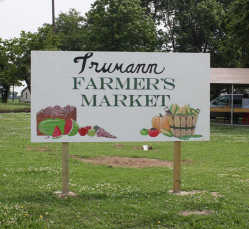 The Trumann Farmer's Market is now opened at the corner of Ozark and Speedway at Ozark Street Park, and applications for vendors are being accepted at the Mayor's Office.
"We are doing everything we can to make the market a success," said Mayor Barbara Lewallen. "The public works department has worked hard to make it a nice location with shade and electricity."
As an incentive for vendors to use the market to sell their goods, privilege licenses are half price at $15 when they use the Farmer's Market. The mayor also added that the city will soon have street signs directing people to the market.
The market season is 7 a.m. to 7 p.m. Monday through Saturday, May 1 through Oct. 31. On Sundays, the market is open from 1 p.m. to 5 p.m. An application must be filled out every 30 days to ensure that unoccupied spots can be filled by other vendors. Vendors may sell fruit, vegetables, bakery items, brownies, cookies, jams, jellies, syrup, honey, farm fresh eggs and more.
Lewallen said the community bulletin will soon be moved to the park with the farmer's market.
For more rules, regulations, and information, contact the Mayor's Office at 870-483-5355.