MT Rotary plans tenth annual Peggy Bankston Walk
Tuesday, June 16, 2015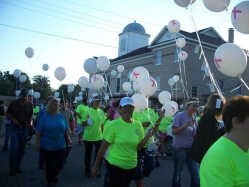 The Marked Tree Rotary Club has begun plans for this year's Peggy Bankston Walk/Run/Ride, and they are hoping to make this one bigger than ever as it is the tenth annual walk.
They began hosting the walk in 2006 in honor of Peggy Bankston, a fellow Rotarian and pianist/organist for First Baptist Church, who died of breast cancer Aug. 16 of 2005. Rotarian Bill Stanley said he talked to Bankston six weeks before she died to tell her the club was making plans to do a walk in her honor. She told him she wanted the money raised by the walk to be donated to the Susan G. Komen Breast Cancer Foundation, which funds research, public health education, health screenings, and treatment for breast cancer.
The club's first walk was held in 2006 during the Cotton Pickin' Jubilee. Since then, the club has held a walk every year on the morning of the Cotton Pickin' Jubilee in Bankston's honor. In recent years, the walk has culminated in a balloon release at the bridge by city hall.
The club is planning to make this year's walk extra special with guest speakers who remember Bankston, a proclamation from the mayor, and other activities. This year's walk will be held on Saturday, Sept. 26.