Rep. Tosh working with Marked Tree city attorney on grant funds to repair Carver Gym
Wednesday, June 24, 2015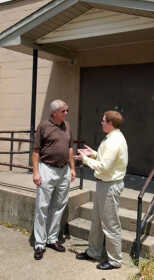 The Carver Gym in Marked Tree has been closed since April when the city council met there and saw its dilapidated state. After months of heated debate over the gym, State Representative Dwight Tosh is getting involved in the search for funding to help pay for repairs to the gym.
Tosh said he was contacted by Mayor Mary Ann Arnold and told about the situation at Carver Gym, which has deteriorated over the years due in a large part to water damage from a leaking roof. Tosh then contacted City Attorney Jobi Teague to help him spearhead a project to find grant money for the gym.
The full story will be in the June 25 edition of the Poinsett County Democrat Tribune.