Couple serve as music ministry leaders in church over 60 years
Thursday, June 25, 2015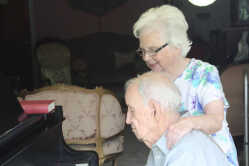 They make beautiful music together. Nearing his 98th birthday (Aug. 3), Trumann resident Jules Martin continues to share his gift of music with the Trumann First Baptist Church congregation. Martin has been the organist for First Baptist the past 67 years and does not allow arthritic hands and old age to detour his abilities to inspire others through his worshipful playing each Sunday. Dorothy, 84, his wife of 61 years, has been playing the piano at the church nearly as long. Besides playing the piano and organ for congregational worship, the couple plays duets for the offertories at their church.
"Jules and Dorothy Martin are faithful servants of the Lord," First Baptist Church pastor John Maley said. "They are setting an example for future generations to follow."
Both Jules and Dorothy had humble beginnings learning to play. Dorothy was born in Fort Smith and grew up in the Ozarks.
See the full story in the June 25 edition of the Poinsett County Democrat Tribune.