Betty Pope
Friday, June 26, 2015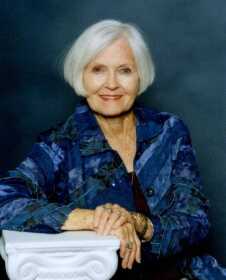 MEMPHIS - Betty Lu McGill Pope, 82, of Memphis, formerly of Marked Tree, died on June 19, 2015. She is survived by her brother, Robert McGill of Marked Tree; a daughter, Cathy Colwell Fay (Mike) of Germantown, and a son, Clark Colwell (Susan) of Memphis. She was the beloved grandmother of Drew Watts (Mike) of Nashville, Curtis Fay of Germantown, and Erin Colwell of Memphis. Betty Lu leaves sweet memories to Paula Hansard, Susan Kynerd, Lainie Rogers, and Bitsy Walker all of Memphis. She will be fondly remembered by cousins, nieces and nephews. During the last six months, her doctors, nurses, therapist, caregivers, friends, and family have been a great source of inspiration to her.
Betty Lu was born in Fayetteville. She was preceded in death by her parents, Leighton and Lucy McGill of Marked Tree; and her sister, Mary Taylor Colby of Mayfield, Kent.
Betty Lu was a member of Central Church of Collierville, Tenn. where she taught Sunday School and Vacation Bible School. She attended the Community Bible Study of Collierville. Betty Lu lived her faith in Christ through her kind words and generous interactions with others. Her warm smile and gracious personality provided encouragement to all that encountered her.
In 1950 Betty Lu was the salutatorian of her graduating class in Marked Tree High School and served as class vice-president.
In 1954, she earned a degree in Psychology at the University of Arkansas, where she was a member of Kappa Kappa Gamma. She later earned her teaching credentials and was a well-respected teacher in the Memphis City Schools for thirty-three years. After her retirement, Betty Lu became a tutor and her students thrived with her instruction.
Betty Lu had many interests. She was an avid reader, enjoyed playing bridge, and delighted in attending the theater. Her vivacious personality also brightened many organizations including the King's Daughters and Sons, the Cotton Wives Club, the Salvation Army, and the Brook's Art League. She was a member of the Residential Leadership Committee at Brookdale Senior Living.
A memorial service was held June 22 at the Memorial Park Funeral Home followed by interent in the Marked Tree Cemetery. Memorials in Betty Lu's memory may be made to The Salvation Army or The King's Daughters and Sons.
Funeral arrangements have been entrusted to Memorial Park Funeral Home and Cemetery, 5668 Poplar Ave. Memphis, TN 38119, (901) 767-8930, "Behind the Stone Wall."