Poinsett County farmers replace cotton crops with grain sorghum
Saturday, July 4, 2015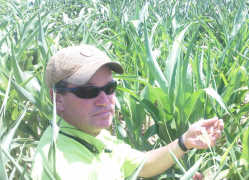 Many Poinsett County farmers will not be picking cotton this year. Some local farmers decided to plant grain sorghum instead.
The flooding this spring left many farmers wondering what to do to produce good crops this year. Craig Allen, the Poinsett County Extension Agent, said there was a lot of concern but "the crops have turned around and are looking better."
Allen said the 2015 Farm Bill has really hurt farmers in the south and was designed to help the midwest. He said in Arkansas, farmers contend with multiple sprays (specifically for bugs) and have to irrigate and do not get the same yields northern farmers receive. Allen said there is no price protection on cotton or corn with this new farm bill.
Farmers have adjusted this year by producing more grain sorghum and less corn.
See the July 2 edition of the Poinsett County Democrat Tribune for the full story.