Delta teams fall in district semi-finals
Thursday, July 2, 2015
The Delta 9 year old and Delta 10 year old All-Star teams played in the Cal Ripken North Arkansas District Tournament his past weekend at Joe Mack Campbell Park in Jonesboro. Both teams advanced to the semi-finals with #3 Delta 9 falling to #2 Paragould 16-13 and the #2 Delta 10 falling to #3 Blytheville 12-11.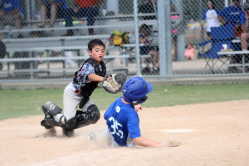 Delta 9 went 2-1 in pool play falling to Blytheville 8-6 Friday before coming back on Saturday to down Jonesboro 25-10 and holding on for a 14-13 win over Paragould. Paragould got revenge on Sunday in a back and forth game to oust the Delta 9 team.
Delta 10 went 2-1 in pool play and ended up the second seed going into bracket play. The team beat Blytheville 5-4 on Friday and came back Saturday to down NEA East 7-6 before falling to Osceola 5-4. The team squared off against #3 Blytheville in one semi-final match-up on Sunday. Falling behind 10-4 going into the bottom of the fifth, Delta 10 scored seven runs to take a 11-10 lead into the final inning. Blytheville got runners on second and third with one out before a base hit scored both runs giving them the win.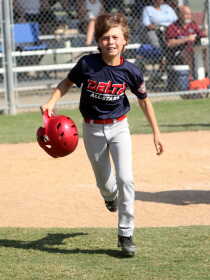 The Delta 12 year old All-Star team was also in action at Joe Mack playing in the Cal Ripken North Arkansas State Tournament. The team went 1-1 in pool play on Friday losing to Mountain Home 15-0 in their opener before coming back to beat Fort Smith 15-3 earning the sixth seed for bracket play on Saturday. They faced #2 Blytheville who came ready to played and handed Delta 12 a 15-8 loss to eliminate them from the tournament.