Dunman leaves it all on the field
Thursday, July 2, 2015
To watch John Taylor Dunman play football and baseball, you'd think he was just an ordinary 15-year old playing the sports he love. What most don't know is that Dunman plays all out despite only having one kidney.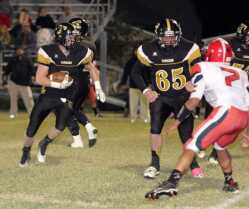 "When John was nine, he got sick with a fever and was vomiting. We took him to the doctor and was told he needed an emergency appendectomy. It was during this procedure the doctors found he only had one kidney," mom Christie Dunman said. Dunman was born with just one kidney. "If he hadn't got sick and had to have that surgery, we may have never known about it," Christie added.
See the July 2 edition of the Poinsett County Democrat Tribune for full story!