Police searching for missing Bay woman
Friday, July 10, 2015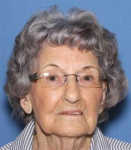 Police are looking for a Bay woman who went missing while on her way to visit a friend in Jonesboro. A Silver Alert was issued for Lavinda Counce, 90, who was last seen around 10:30 a.m. on Friday, July 3, and police now believe she may have been abducted.
Counce was last seen at 400 Lunsford Avenue in Bay when she went missing.
Bay Police Chief Paul Keith said Tuesday this is being treated as a missing person case. "We have made a determination this was a possible abduction," he said. Counce's car was found Saturday parked at NEA Baptist Memorial Hospital in Jonesboro. According to Keith, surveillance video reveals Counce's car was parked by a male individual. "We have video of a male subject walking away from the vehicle and not Mrs. Counce," Keith said. The case is still under investigation, and police are continuing their search for Counce as well as the man caught on the surveillance footage.
Anyone with information on Counce's disappearance is asked to call either the Bay Police at 870-781-3221, the Craighead County Sheriff's Office at 870-933-4551, or Crimestoppers at 870-935-STOP. Keith said Crimestoppers is offering a reward for any information received.