Grant awarded to restore Community House roof
Friday, July 10, 2015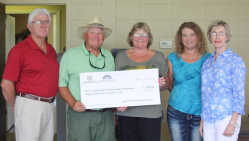 An iconic building in Trumann will be getting much needed repairs thanks to a grant from the Arkansas Historic Preservation Program. The AHPP recently announced it has awarded over $2 million in grants for projects throughout Arkansas, including a Historic Preservation Restoration Grant of $39,460 for the Trumann Community House.
Mayor Barbara Lewallen wrote the application for the 2:1 matching grant last year when she was director for the Trumann Chamber of Commerce. She said the Community House needs work in several areas such as the windows, the electrical system, and the double doors off the gym, but the main thing it needs is a new roof. "We can use it [the grant] to do the most critical things," Lewallen said. "I know we'll start on the roof and then select the most critical areas."
The Community House Foundation will decide which areas of the building will be repaired using the remaining grant money after the roof is replaced. A plan for repairs must be submitted by mid-July, and the foundation has one year to make the repairs.
The full story is available in the July 9 edition of the Poinsett County Democrat Tribune.