Pankey preserves the past through celebrated hobby
Saturday, July 11, 2015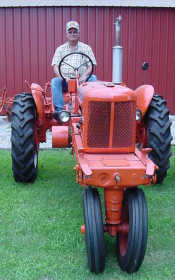 For Trumann resident Dennis Pankey, collecting antique tractors is not just a hobby, it's a way of preserving history. "My dad worked for Allis-Chalmers [Tractor Company] for about thirty years when they were here in Trumann," Pankey said. "All my life I wanted one, and that is how I got started."
Pankey started collecting Allis-Chalmers antique tractors about ten years ago and currently owns 12 of them. "I have three more I would like to get, but they are the hard-to-find ones," Pankey said.
Pankey's girlfriend Mary Burchfield is on board with Pankey's hobby. "Mary and I drive them together, and put them in shows," Pankey said. "She claims a bunch of them."
The first antique tractor, which he always wanted, was a WD45, and it was the first one he purchased. The oldest tractor he owns is a 1934 WC Model and the newest antique tractor he owns is a 1956 WD45. "What is strange is I was raised up with farm equipment, but never lived on a farm," Pankey said.
The full story is available in the July 9 edition of the Poinsett County Democrat Tribune.