Dickson family set to host pair of exchange students
Saturday, July 11, 2015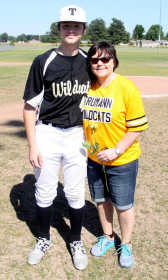 When Kristie Schmidt Dickson was first contacted by a friend from Cultural Academic Student Exchange (CASE) about hosting a foreign exchange student, her first thoughts were what most peoples' would be.
"My first thought was how am I going to get out of this. I told my friend that I would talk to my husband and get back to them. When I talked to Sid about this, I just knew he was going to say no way. He was like if you want to, we will," Dickson said.
Dickson thought about the idea for some time before agreeing to host a child. "Not having any kids, I thought it might be fun to do. Our first student was a girl from Vietnam named Trang. She turned out to be a bit more than we could handle, so we had to let her go back. We then got Enrico, who was from Italy, for a semester. Keanu was with us last year from Germany. He was our first to stay the entire school year with us," Dickson said.
As the new school year approaches, the Dicksons will open their house to two students for this school year. "An will join us from Vietnam, and Manuel will come from Germany," Dickson said. "We decided to host two this year so they will have someone they can relate to in case making friends at school is difficult for them."
For the full story, see the July 9 edition of the Poinsett County Democrat Tribune.