Anthony Patterson serves community in many leadership roles
Friday, July 17, 2015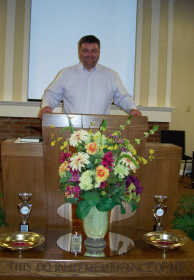 Some people seem to be natural born leaders. Anthony Patterson appears to be one of these types of individuals. Patterson currently serves as pastor of Healing Hands Community Church, the president of the Trumann School Board, and the Community Executive of Simmons Bank in Paragould. However, he has served in many other leadership roles in Trumann over the years.
One of the most rewarding experiences for Patterson has been serving on the Trumann School Board the past five years. His school board term ends in September, and he will be be replaced by D.J. Penter, the only individual running for his position. "I look at the past five years and feel we've moved forward with technology," Patterson said. "Everybody has an agenda when they run for office. That's the reason they serve. I would say mine was to see Trumann students be best prepared for college and career as they are allowed by the public school."
Read the full story in the July 16 edition of the Poinsett County Democrat Tribune.