Marked Tree Rotary donates money to breast cancer research
Friday, July 17, 2015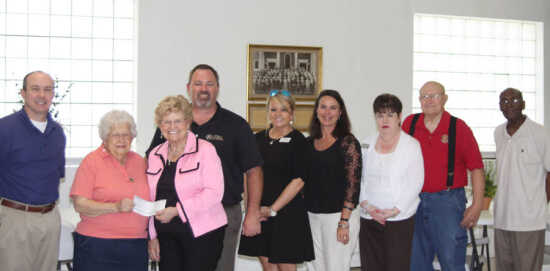 The Marked Tree Rotary Club donated $1,260 to Susan G. Komen last week to go toward breast cancer research, screenings, and treatment.
Jane McDaniel with Susan G. Komen Arkansas was presented with the check during the club's July meeting. The money was raised during last year's Peggy Bankston Walk/Run/Ride. The walk is done every year in honor of Peggy Bankston, a Rotarian who died of breast cancer in 2005. All the money raised by the walk goes toward Susan G. Komen as Bankston requested.
The Komen foundation uses the donations they receive to fund breast cancer research, public health education, health screenings, and treatment for breast cancer. McDaniel has been a breast cancer survivor for nearly 29 years and is a nurse at St. Bernards in Jonesboro. Since surviving breast cancer, McDaniel has become a breast cancer activist. She said raising people's level of awareness was a cause very dear to her heart.
McDaniel told the club 25 percent of donations to Komen Arkansas goes toward research and other 75 percent stays in-state to be given out as grants to provide services such as St. Bernards' mobile mammography unit. Another example of a grant-provided service at St. Bernards McDaniel mentioned is a program to help women who have no money pay for breast cancer treatment.
"We've raised the level of awareness in the whole country, but particularly in Arkansas," McDaniel said. McDaniel credited Komen with raising awareness for the importance of women to get mammograms and with providing funding for women to either find transportation to screenings and treatment or to have access to mobile screening units, which are especially important for rural communities which do not always have the facilities.
The Marked Tree Rotary Club's next Peggy Bankston Walk/Run/Ride is set for Saturday, Sept. 26, the morning of the Cotton Pickin' Jubilee.