Lions get update about special election
Friday, July 17, 2015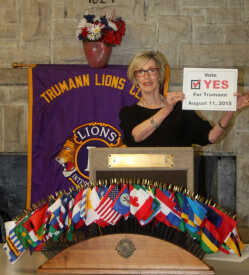 Trumann Mayor Barbara Lewallen spoke to the Trumann Lions Club last week about the upcoming special election.
"First thing I'd like to say is: No Tax Increase," Mayor Lewallen said. "We have the opportunity to acquire two million dollars for much needed improvements in the city without raising the taxes."
There will be 11 items that will be voted on in the special election to be held on August 11. The first two items must pass before the remaining nine can be put in place. "The first two votes are critical," Lewallen said. "The first vote will be for Ordinance No. 602, to extend the original Ordinance No. 528, which is the current one percent sales and use tax within the city of Trumann [for four years] to the year 2032. The second vote will be to refinance the 2009 bonds," Lewallen added.
The breakdown of the new monies, if it passes, are as follows: water improvement, $375,000; sewer improvement, $295,000; police improvement, $470,000; street improvement, $820,000; drainage improvement, $95,000; fire improvement, $125,000; library improvement, $55,000; park improvement, $80,000; and administration building improvement, $55,000.
"The city council met in a special session to review the proposal before voting unanimously that this will be good for Trumann. The council then passed the necessary ordinances for the special election" Mayor Lewallen said.
"Our top priority will be to have water and sewer run under Highway 63. We feel this will be valuable for the future of business to Trumann. We also want to update the water tower at Industrial Park. The city needs a new bucket truck too," Mayor Lewallen said.
"Vote yes on August 11," Mayor Lewallen added.