Daisy Cromwell
Tuesday, July 21, 2015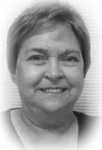 TRUMANN - Mrs. Daisy Irene Cromwell of Trumann died Wednesday, July 8, 2015 at St. Bernards Medical Center in Jonesboro at the age of 64. She was born in Huntsville, Ala. and had lived the last 20 years in Trumann and was formerly of Marked Tree. She was employed by Nestle of Jonesboro and a member of Sneed Street Baptist in Marked Tree. She was preceded in death by one son, Vance Daniel Armstrong; one brother, Roy Anderson; and her parents, Charlie and Dorothy Hayes Anderson.
She is survived by her husband of 20 years, Leroy Cromwell of the home; five daughters, Karen Armstrong Wood of Lepanto, Donna Armstrong Oost of Paragould, Becky Armstrong Cromwell of Waverly, Tenn., Rachel Armstrong Greenway of Trumann, Leslie Armstrong of Trumann and two step-daughters, Debbie (Roger) Watson of Bay and Brenda Branch of Trumann; two sisters, Shirley Anderson Medlin of Lake City, and Stella Anderson Hayes of Pangburn; two brothers, Billy Anderson of Lake City, and Buford Anderson of Heber Springs; 18 grandchildren; and nine great-grandchildren.
Funeral services were July 11 in the chapel of Thompson Funeral Home with Bro. Murray Ray officiating. Burial followed in Bolivar Cemetery near Harrisburg.
Pallbearers were Roger Watson, Billy Greenway, Matthew Wood, Dustin Ruthven, Mark Cromwell, Jr., Timothy Counce, Jonathan Counce and Earl Wycuff. Honorary pallbearers were Russell Cromwell and Mark Cromwell.
An online register book can be signed at www.thompsonfuneralhome.net.