Ovada Phillips
Tuesday, July 28, 2015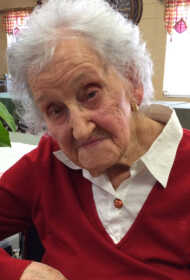 TRUMANN -- Ovada Phillips passed away July 28, 2015 at the age of 102. She was a resident at Arlington Cove in Trumann. She was born to John and Gruty Jane Bromley in Alabama. Mrs. Phillips had retired from the Trumann School District as a cafeteria worker. She was preceded in death by her husband Harvey Phillips; one son Leon Phillips; sisters Juanita Camp, Estelle Tanner and Maggie Layton; one brother Cecil Bromley; and her parents. She is survived by two grandsons Shawn Phillips and Anwan Phillips; and a special friend and caregiver Marlene Hancock of Trumann.
Funeral services will be held July 30 beginning with visitation at 1 p.m. at Thompson Funeral Home. The funeral service will follow at 2:30. Private burial will be in Tyronza Cemetery.
An online register book can be signed at www.thompsonfuneralhome.net.