Gillis named Marked Tree Teacher of the Year
Friday, July 31, 2015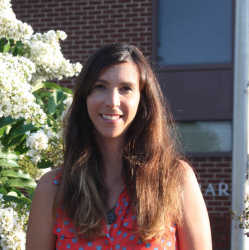 During their monthly meeting Monday night, the Marked Tree Board of Education recognized Emily Gillis as the district's 2015 Teacher of the Year. Superintendent Annesa Thompson said this is the first year the district has recognized a Teacher of the Year. She called Gillis a model teacher.
Gillis has taught first grade for nine years at Marked Tree Elementary and will be teaching third grade for the first time starting this school year.
"Everyone in my family taught," Gillis said. "When I was going through school [to become a teacher], I saw some teachers were nurturing and some weren't. I just wanted to make a difference and do a job that was rewarding."
Marked Tree Elementary Principal Lisa Gray said Gillis has helped children out many times beyond just being their teacher, such as when she helped some students get the supplies they needed after they lost their home in a fire. "She pays attention to every kid and their individual needs," Gray said. "She goes above and beyond and always helps mentor new teachers."
Gillis said she was very honored to be named Teacher of Year. "I'm so blessed to have supportive staff, parents, and kids," Gillis said.