Marked Tree native makes art in Dallas
Friday, July 31, 2015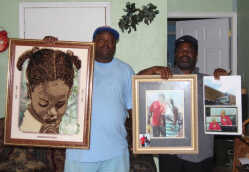 Marked Tree native Barrick Lester has been making art for years. He learned to paint at Arkansas State University in the 1980s and has worked on his art any way he can from painting portraits of random people he meets every day to taking scrap people throw out and turning it into something beautiful. This year, Lester took his art to the big city as he moved to Dallas, Texas.
Lester said he had a vision telling him to leave his small town and go to Dallas. "Something was drawing me there. God said Dallas is special," Lester said. He left for Dallas in January after living his entire life in Marked Tree. Lester's brother-in-law offered him a place to stay and got him a job at a furniture store he works at. The owner of the store lets Lester hang his art on the wall to sell.
"I love art," Lester said. "Art is my passion. It's my gift making room for me."
See the full story in the July 30 edition of the Poinsett County Democrat Tribune.