Trumann resident Scotty Carroll enjoys career in radio broadcasting
Friday, July 31, 2015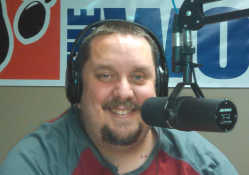 Long before the use of cell phones, popular radio announcer Scotty Carroll could be heard across the radio waves. The Trumann resident, known as Scott Woodson on radio station KWHF 95.9 The Wolf, got his start through his high school's high-tech television and radio station.
Born in Little Rock, Carroll moved to Newark when he was in the seventh grade. In his freshman year of high school, Carroll wanted to play sports, but he had asthma. "The only other opportunity I had other than sports was radio and TV," Carroll said. "I fell in love with it instantly. That's how I got started. I had more of a love for TV than radio at first."
See the full story in the July 30 edition of the Poinsett County Democrat Tribune.