A sister's love: a kidney for Candace
Friday, August 7, 2015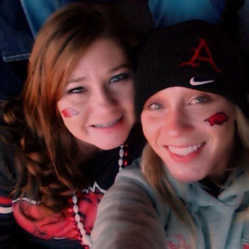 Candace (Barnes) Vinson was 15 years old when she and her parents were told her kidneys were shutting down due to the rare autoimmune disease IGA Nephropathy. Candace was told she would need dialysis, and she was placed on the National Organ Donor list.
"I really had no idea I was sick," Candace said. "I was at cheer camp, and the girls who had to lift me told me I needed to lay off the cheeseburgers. It was actually fluid building up in my body." She also said it got hard for her to breathe at night when she was trying to sleep.
"We got a call that a cadaver kidney was being flown in from Virginia," Candace said. "March of 2002 was when I received my kidney and a second chance at life."
A cadaver kidney has a life expectancy of 7-10 years. Candace has been lucky her kidney has exceeded that. "My kidney has lasted over 13 years. I started getting sick again, I lost my hair, and the doctors couldn't figure out why," Candace said. Finally she was told her kidney was starting to shut down. "So back on dialysis I went. It's been easier this time, the first time I couldn't handle it," Candace said.
So in comes middle sister Bobbie (Barnes) Smith. After having been told for 14 years that Candace's disease was heredity, Bobbie never got tested for being a match. "When I got the call that Candace's kidney was shutting down and we might lose her, I got so upset," Bobbie said. "So I decided to get tested and found I was a match. We were also told the disease was not hereditary and that I would be able to give Candace a kidney."
See the full story in the Aug. 6 edition of the Poinsett County Democrat Tribune.