Rye goes above and beyond the call of duty
Saturday, August 8, 2015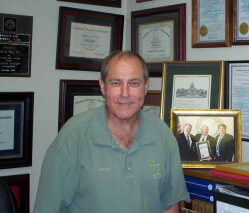 He may be one of the longest serving officials in the history of Poinsett County, knew former president Bill Clinton well during his pre-presidency years, and has an office that overflows with countless accolades. Johnny Rye, Jr., started working as county assessor on Jan. 1, 1991, and has helped the people of Poinsett County in many ways through his involvement in county government and civic organizations. "I would never believed I'd do it this long," Rye said. "When I started, everything was paper and pencil and had flat rate value. Now everything is itemized using Windows 10."
Born in Memphis on March 27, 1956, Rye was raised in the Black Oak community on Highway 149 near Marked Tree and Tyronza. Rye's dad owned and ran the Johnny Rye Grocery from 1958 until he passed away in 2009. Rye said he started working at his father's grocery at the age of eight and learned how to give change to customers at an early age. Rye credits his math skills as one of the major reasons the role of county assessor was such a good fit for him.
Rye said his motivation to become a leader came from the fact that he felt he had a calling to serve, plus he excelled in math. Rye ran for the state legislature in 1982 and lost by 150 votes. He was then encouraged by many of his campaigners to run for the county assessor spot. He won the election and has held the role of county assessor since 1991.
See the full story in the Aug. 6 edition of the Poinsett County Democrat Tribune.