Timbs captures Mr. Tennessee title
Thursday, August 13, 2015
Former Trumann alum Harley Timbs put his name in the record books this past weekend at the Mr. Tennessee State body building championships. Timbs, who won the title in 2006, became the first two-time winner with this year's title. "I was just going to compete in the 40-60 age category. After winning that title, they encouraged me to enter the open division, I'm glad I did," Timbs said. Timbs also became the only one to have three championships and at 44 years old became the oldest winner of a Mr. Tennessee title.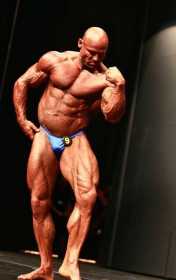 Timbs said training for the contest was brutal. "Normally you train for 16 weeks and try to drop 50 pounds. I had injured my shoulder and only had nine weeks to train. I was 304 when I started training and weighed in at 231 with 4.2 percent body fat for the competition," Timbs said.
For nine week Timbs did two hours a day of cardio and was on a strict diet regiment. "I never had one cheat meal or a soft drink in that nine weeks," Timbs said. "I could not have done this without my wife, Denise, a 2007 Mrs. Tennessee body building winner, and my Lord Jesus Christ. Denise prepared my meals and kept me on track. She was such an inspiration," Timbs added. Harley and Denise are the only man and wife to to have won Tennessee titles.
Timbs said this was it for body building as he will concentrate on his pursuit for the world record bench press. He's after the record of 837.6 pounds at a weight of 240 pounds. Timbs best lift in competition is 865 pounds weighing in at 250 pounds.