Giant sign for airport roof completed in Trumann
Friday, August 14, 2015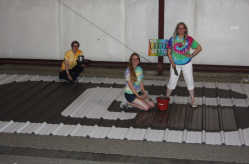 At 180 feet in length, it's the biggest sign she's ever painted. Last week, Cindy Schrader Dougherty, owner of Graphix Advertising, completed work in Trumann on a sign to go on the roof of the municipal airport in Covington, Tenn. She and two of her employees, Elizabeth Dryer and Kathryn White, finished work on the sign Friday, Aug. 7.
A Manila High School graduate, Dougherty has been in the graphic design business since 1982. She got into it through her talent for drawing and her knowledge of drafting and architecture. Over the years, she's designed logos for just about everything from brochures to fire trucks to billboards. Until this job, the biggest sign she had ever worked on was 100 feet long.
The Covington Municipal Airport sign will be placed on the 240 foot long roof for airplanes to see when they are approaching. Each letter of the word "Covington" measures 20 feet wide by 11.5 feet tall.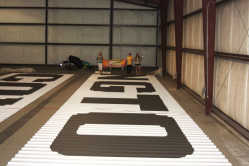 Work on the design for the sign started in March when Graphix got the bid for the job.
See the full story in the Aug. 13 edition of the Poinsett County Democrat Tribune.