Dorothy Langston
Monday, August 17, 2015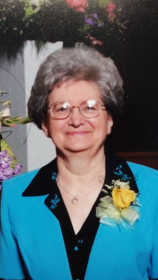 LEPANTO - Dorothy Langston, 77, of Lepanto passed with all of her family surrounding her on Thursday, August 6, 2015 in Jonesboro. She was born on October 22, 1937 to Charles and Ruby Farley Hindman. She was a member of the Lepanto Assembly of God for 50 years plus, worked in the woman and children ministries, loved working in her yard and house and held a very special place in her heart for all of her grandchildren.
Mrs. Langston is preceded in death by her parents; one brother Willie Hindman; and one grandson Brandon Langston.
Dorothy is survived by two sons Bobby Langston of Brooklyn and Rick Langston of Lepanto; two daughters Deborah Wammack (Dewayne) of Gosnell and Donna Ruiz (Hubert) of Lepanto; two sisters Charlene Flowers of Jonesboro and Anne Martin of Lepanto; nine grandchildren Misty Ross, Amy Stahl, Jessica Gill, Meredith Ruiz, Abby Ruiz, Bryan Langston, Sarah Langston, Stacy Langston and Jammie Monclova.
Funeral services were be held August 10 at Murphy Funeral Home in Lepanto with Bro. Mike Gonzales, Bro. Anthony Langley and Bro. Jeff Miles officiating.
Interment followed at Potter Memorial Cemetery in Lepanto.
Family requests that if donations are going to be made to please make them to Flo and Phil Jones Hospice House in Jonesboro, Arkansas.