Dorohy LaFarlett
Tuesday, August 18, 2015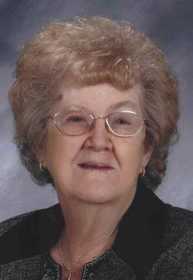 TRUMANN - Mrs. Dorothy Mae Carter LaFarlett, 90, of Trumann, passed away Wednesday, August 12, 2015 at the Flo and Phil Jones Hospice House. She was born March 18, 1925 in Chewalla, Tenn. to the late Charles Webster (Charlie) and Tabbie Hively Carter. Her family moved to Trumann in the early 1930's. She was a member of the Maple Grove Baptist Church. Dorothy worked her early years on the farm, then at Singer Company and Walker's Dairy Bar in Trumann. She loved playing cards, going to church and going to visit relatives. She was the youngest of 12 siblings. Dorothy is preceded in death by her parents; her husband of 50 years, Hubert Franklin LaFarlett; nine brothers, Edgar, Bennie, Dee, Rube, Hen, L.T., Onnie R., Grady and Johnnie Carter; two sisters, Elsie Jones and Dale Jones; and son-in-law, James Trenthem.
Survivors include a daughter, Kay Trenthem of Osceola; two sons, Gordon LaFarlett and wife, Yvonne of Trumann, and Donnie LaFarlett of Jonesboro; three grandchildren, Rita Gallion and husband, Mark of Jonesboro, Jim Trenthem and wife Nisa of Greenbrier, and April Rocconi and husband Tony of Tioga, Tex.; and four great grandchildren, Will Trenthem, Mallory Trenthem, Anthony Rocconi and Austin Rocconi.
Chapel services were August 17 at Thompson Funeral Home in Trumann with Dr. Jimmy Mauldin officiating. Burial followed at Jonesboro Memorial Park Cemetery in Jonesboro.
Pallbearers were Jimmy Carter, Michael Carter, Ricky Wright, Jim McInturff, Mark Gallion, and Tony Rocconi. Honorary pallbearers were William Carter, Robert Carter, Junior Carter and Jeff Wright,
An online register book can be signed at www.thompsonfuneralhome.net