Tyronza Senior Center to teach seniors computer skills with grant
Thursday, August 20, 2015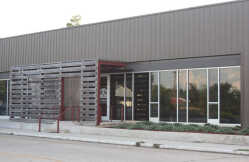 Tyronza senior citizens will soon get help navigating the ever-changing landscape of technology thanks to a grant and high school volunteers.
The Marion Bearden Tyronza Senior Center was recently awarded a $19,879 grant from the Earnest and Anna Ritter Family Endowment. This grant will be used for a program where EPC High School seniors will mentor senior citizens on how to use various forms of technology.
"This grant will provide audio/visual equipment, computers, e-readers, and kindles for the senior center," Mayor Charles Glover. "We're going to partner with EPC seniors. They'll come over and teach about the digital age. Ms. Fithen is in charge of developing the curriculum, and she's got a lot of good ideas."
EPC has a program where students receive high school credit for doing 75 hours of community service.
Mayor Glover said the computers are ready. Some wiring at the senior center has to be done, and internet will be hooked up next week. He estimated the mentoring program could begin toward the end of September.
"We're excited. I've gotten lots of positive response from senior citizens," Mayor Glover said.