New eye doctor visits Lions Club
Friday, August 21, 2015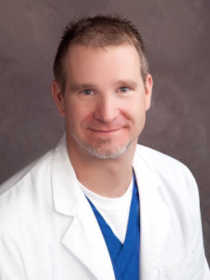 Dr. Gavin McDowell, the new owner of CustomEyes Eye Care, was the guest speaker last Wednesday at the Trumann Lions Club weekly meeting.
McDowell and Dr. Amy Tolbert bought the practice in Trumann from Dr. Angela Howell in February. McDowell said they started talking with Howell in November about acquiring the practice. "Having your own practice is like having another child. It will demand your attention," McDowell said.
Growing up in the small town of Corning, McDowell said he thought Jonesboro was the biggest city in the world. After high school, he attended Arkansas State University majoring in Chemistry and Math with the ambition of being a teacher. Working full-time while going to college, seeing his older brother take a teaching position, and seeing the comparison in wages, McDowell decided against becoming a teacher. He applied to five medical colleges where he was denied by two, wait-listed by two, and accepted by one. He decided to take the one, Inter American University of Puerto Rico School of Optometry.
By the time he was accepted to medical school, McDowell had met his wife while in college. They sold everything they had and moved to Puerto Rico where they lived in an apartment for the next four years. "Living there is not so good, but to go just for travel is pretty nice," McDowell. "With a population of two million people, I felt like a very tiny fish in a very big pond."
Read the full story in the Aug. 20 edition of the Poinsett County Democrat Tribune.