Lions hear about THS drama department
Friday, August 28, 2015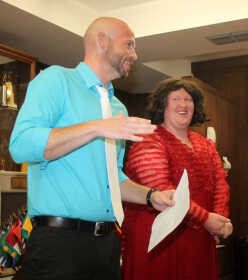 Trumann High School Drama teacher Rob Spencer spoke to the Trumann Lions Club last Wednesday at their weekly meeting. Spencer had a special guest with him, Edna Turnblad, (aka THS teacher Wesley Hooper).
Spencer talked about the success of the play "Hairspray" the Drama Club did last year. Hooper was one of a few teachers who had parts in the play. Spencer told the group about how much work goes into doing a production from the sound set up, lights, props and wardrobe changes. "Wes had a wardrobe change and was having a difficult time with it. On the last rehearsal before opening night, he nailed it and the group broke out in cheers and applause, showing support and how close everyone gets during this time," Spencer said.
Two plays are in the works for this year. "Wait Until Dark" will be the first play and it is a bit scary, according to Spencer. It is slated for the first weekend in November. The spring play will be "The Wizard of Oz" in April. "We are going to use all three campuses for this play. The Cedar Park kids will play the Munchkins and flying monkeys with some of the Intermediate School kids playing the guards and possibly other roles. It is going to be neat to have the whole school involved in the production. We hope to cast 100 kids," Spencer said.
Read the full story in the Aug. 27 edition of the Poinsett County Democrat Tribune.