A look at the changes between the old county jail and the new
Saturday, August 29, 2015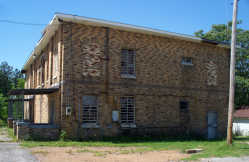 Sheriff Larry Mills recently spoke to the Poinsett County Democrat Tribune about the history of the old two-story county jail and the new county jail. What a difference between the two.
The old jail, located on East Street in Harrisburg, was built in 1939 and housed a capacity of 17 inmates with six deputies working alongside the sheriff. The jailer was a one-man show, having to handle dispatch, taking all phone calls, tending to inmates, feeding inmates, and any problems that arose between inmates. "If the jailer had to go upstairs for any reason, he had to do a radio call letting others know, and if he didn't answer a radio call in a timely manner, someone had to come by and physically check on him," Mills said.
The new jail was constructed in 1995 and opened in 1996 on Justice Lane. There are now 13 deputies working with the sheriff taking care of up to 130 inmates. A big change from the old jail to the new is all the new technology that is available. "When the county got the 911 system in 1993, it was huge for the county," Sheriff Mills said. "Now we have the Smart 911, and it's even better. As much information as a person wants to give can be included on the new system. If a family has a special needs child, it can be added to their information along with the number of children and family pets. The more information we have, the better."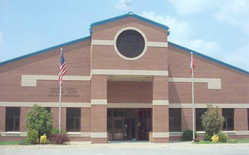 Another change between the old and new jail are the inmates. Mills said in the old jail, they would occasionally have a female inmate, and they would keep her downstairs. A matron tended to the female inmate. The old jail had two drunk tanks downstairs, and the upstairs had a front and back half to keep the felons and misdemeanors separated. At the new jail, they have to segregate for various reasons. "Male and female are separated, pre-sentenced and sentenced are separated, misdemeanors and felons are separated as well as 309's, and trustees are not with the regular inmates. Our guidelines are from the Arkansas Jail Standards," Sheriff Mills said.
One feature of the new jail is the courthouse there. "We do have court at both places, and sometimes on the same day. When we have court here at the jail, we don't have to transfer inmates, and that is a big plus," Sheriff Mills added.
Mills said the biggest difference he sees is the money it costs to run the jail. "When the new jail was opened, the operating cost was $600,000. The operating cost today is $1.2 million. It gets tough at times to find funding for new things," Sheriff Mills said.