Football season begins with jamboree in Marked Tree
Friday, August 28, 2015
Marked Tree hosted a five team junior high football jamboree that included Trumann, Hazen, Piggott and Corning. Each team played two 30 minute games.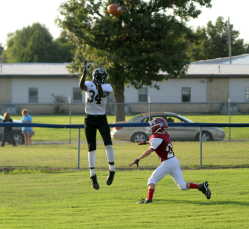 Trumann and Marked Tree squared off in game one. Trumann got scores on a Will Ryan White pass to MJ Barnes and touchdown runs from Zac Buchanan and Jay Taylor Morgan. Marked Tree got a touchdown run from Kylen Johnson.
Trumann faced Piggott in game two and got touchdowns from Buchanan, Cole Bingham and Jonah Haynie.
Marked Tree played Corning in the final game of the night. The Junior Indians got touchdowns from AJ Johnson, Justin Ellis and Lane Thompson.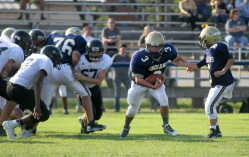 "We did some things right but we did have a few mental errors, that fumble early really hurt us," Marked Tree coach Cody Wallis said. "We are young and kind of inexperienced so I kind of expected what I saw last night. We moved the ball pretty good and we tackled good last night. We'll just continue to work and get better," Wallis added.
"I thought we did well, thought we executed on offense real well," Trumann coach Craig Green said. Defense we did alright, we struggled in some points. We got a lot of guys in and there are some battles going on, we just want to put the best 11 players we have on the field," Green added.