Marked Tree holds ribbon cutting at Booker T. Washington statue
Friday, September 4, 2015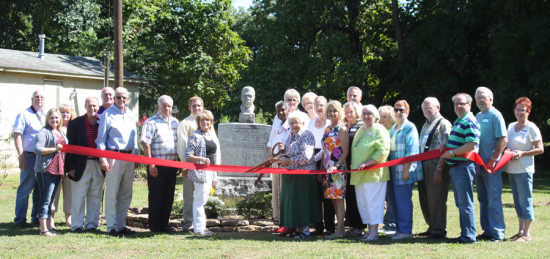 Members of the Marked Tree community, along with state and county officials, held a ribbon cutting at the Booker T. Washington statue last Wednesday.
The Marked Tree Chamber of Commerce recently completed a renovation of the land the statue sits on--at the corner of Sam Anderson Avenue and Savannah Parr Street--which included stabilizing and cleaning the monument, landscaping, planting trees, and adding lighting.
The monument, which includes a bust of Booker T. Washington and a list of all the clubs that contributed to it, stands across the street from Carver Gym, which was once part of the George Washington Carver School black students attended before integration. The monument lists several clubs and individuals who helped buy the ground and erect the statue between 1908 and 1941 including the Womens and Childrens Clubs, White Rose Club, Reading Circle, Boys and Girls Canning Club, Civic Club, Mens Clubs, Mens Service Board, Mens Civic League, Mens League and Womens Civic Club/Mens and Womens Civic Club, and the Quilting, Patching, and Canning Division.