Council to help young adults' work ethic
Saturday, September 5, 2015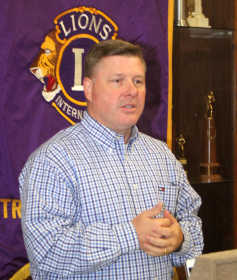 Congressman Rick Crawford was the guest speaker recently at the Trumann Lions Club's weekly meeting. Congressman Crawford talked about Delta Regional Economic Advancement Mission(DREAM). It's a council set up to help young adults with work ethic, being on time and work responsibility.
"The best way to work with people is to find their needs," Crawford said. Toward the end of last year, two regional advisory councils were made. The council for the east side of district will be the DREAM council. The district has 30 counties, big for Arkansas standards, and primarily consists of hill county and the delta region. "The needs are different in these areas, including cultural issues," Crawford added.
The issues the DREAM council will work with are not issues that can't be legislative, it's just a group of concerned individuals who want to help other succeed. Trumann Mayor Barbara Lewallen is on the council.
"We want to instill in the young adults the importance of a job. We want them to know about good work force behavior. Some may have never been taught these things," Crawford said.
"We are in the early stages of the DREAM council, but I think it's going be a good thing. We have many businesses and organizations on board with us ready to help in anyway they can," Crawford said.
See the full story in the Sept. 3 edition of the Poinsett County Democrat Tribune.