Trumann hosts five team jamboree
Tuesday, September 8, 2015
Marked Tree, Hazen, Corning and Piggott were guests of the Trumann Wildcats for a senior high football jamboree as a warm-up before their seasons kick off on September 4.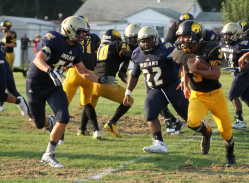 Trumann faced off against Piggott in their opener. Cade Gartman answered Piggott's opening touchdown drive with a touchdown run. Coty Buckner added the two-point conversion run to make it 8-7 Wildcats. The lead was short lived as Piggott scored again and added a couple more scores before the game was over.
Marked Tree played Corning in their first game of the night. The Indians first three scores came after turnovers by Corning. Jaleel Lott recovered a fumble before DeAngelo Griffin scored on a touchdown run, Paul Coleman scored on the first play after Jaylon Gunn recovered a fumble and Gunn scored on a touchdown run after a Coleman interception. LaQuentin Miles scored the final touchdown for Marked Tree on a short run after a Kentreal Brown interception. Ramiro Rodriguez as good on all four extra-point attempts. Corning added a touchdown late in the game.
The Indians and Wildcats did battle in the final game of the night. Griffin got Marked Tree on the board first with a touchdown run and point after by Rodriguez. Trumann answered with a Buckner touchdown run but failed on their try for two. Gunn connected with Coleman on a touchdown pass and Gunn added a touchdown run for the Indians. Rodriguez was good on the extra-point after both touchdowns.
"I felt we came out and competed well," Marked Tree head coach Cody Wallis said after the game. "Big thing is we only gave up two touchdowns on defense in 80 minutes of play. Offensive line meshed well there at the end, they wanted to be run behind. We executed pretty well tonight. We can tell the weight program has made a difference," Wallis added.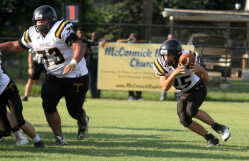 "We made a bunch of mistakes tonight and put the ball on the ground a bunch," Trumann head coach Scott Waymire said. We had two plays stopped and another fourth down play after the quarterback fumbled that went for scores, we can't make mistakes like that trying to keep folks out of the end zone. We've got to hang on to the football," Waymire added.