Makred Tree falls at Piggott
Thursday, September 10, 2015
The Marked Tree Indians began their first campaign under new head coach Cody Wallis Friday night, traveling to Piggott and dropping a 28-7 non-conference decision to the Mohawks.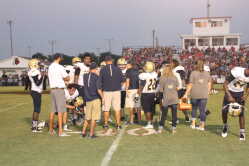 The Indians kicked-off to begin the first contest of the year, and took advantage of a Piggott turnover a short time later as they recovered a Mohawk fumble. This set up Marked Tree's first scoring drive, as D'Angelo Griffin carried the ball deep into the host team's territory, setting up a one yard touchdown run by Jaleel Lott. The Indians also notched the PAT, and enjoyed an early 7-0 lead.
Pick up a September 10 copy of the PCDT for full story!