Warriors fall to McCrory in season opener
Thursday, September 10, 2015
EPC (1-0) fell 24-0 to the McCrory Jaguars in the high school football opener for both schools at Warrior Field in Lepanto.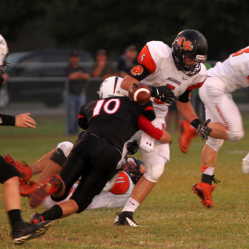 McCrory got the fall first and was forced to punt after a short drive giving EPC the ball on their 19-yard line with 7:13 left for their first series. The Warriors returned the favor as they punted the ball away on their first series. Heath Cavitt's pressure on the McCrory quarterback caused the attempted pass to fall incomplete on fourth and 12 giving the ball to EPC on their own 21-yard line. The Warriors' running game got on track as Chanc Gray and Kyler Gordon ate up some yardage moving the ball into McCrory territory as the first quarter came to a close with the score 0-0.
See full story in the September 10 edition of the PCDT!