Junior Indians shutout Hornets in season opener
Thursday, September 10, 2015
Marked Tree (1-0) opened their junior high football season with a 24-0 win over Harrisubrg this past Thursday at Hornet Stadium in Harrisburg.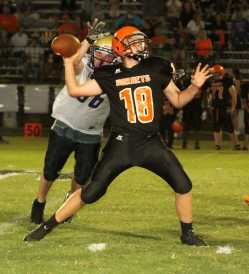 Harrisburg received the ball first moving it down to the Marked Tree four yard line behind the running of Tayeshaun Warren. Jett Jackson was stopped for a one yard loss on third down before Lane Tucker couldn't haul in a pass from Jackon on fourth down giving the ball to the Junior Indians with 5:39 left in the opening quarter. Marked Tree was the first to find the end zone as Kylen Johnson took a double hand-off and raced 80 yards for a Marked Tree touchdown. Bobby Swink ran in the two-point conversion making it 8-0 Junior Indians with 2:37 left. The Junior Hornets started their second series at the Marked Tree 43-yard line. Noah Quirrels ran the ball down to the Marked Tree 19-yard line on a reverse before the quarter ended with the Junior Indians up 8-0.
Grab a copy of the September 10 edition of the PCDT for full game story!