Marked Tree Police raising funds for Officer Lung
Thursday, September 10, 2015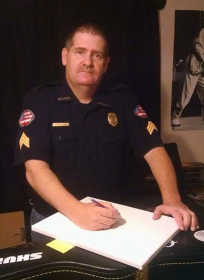 The Marked Tree Police Department is currently raising funds to help Sgt. Jerry Lung with expenses following his loss of a leg to diabetes.
Sgt. Lung has been with the department for over 20 years. According to Sgt. Tony Postell, Lung is currently in rehabilitation with therapy three days a week. Lung is expecting to get a prosthetic in 4-6 weeks.
There is a donation box at the Marked Tree Police Department for Lung. The department will be also be raffling off an AR-15 during the Cotton Pickin' Jubilee with all proceeds going to Lung. The money to purchase the AR-15 was donated by Donald Blagg. For raffle tickets, see any personnel at the Marked Tree Police Department. Tickets are $5 a piece.