District Governor visits Marked Tree Rotary
Thursday, September 10, 2015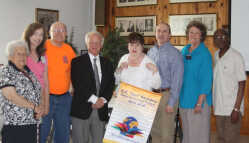 Rotary District Governor Paul Ford visited the Marked Tree Rotary Club last week as guest speaker to talk about the district's goals for the coming year and the club's values.
"I want to lend a sense of urgency to [the Rotary motto] 'Service Above Self,'" Ford said. "You're the only civic club in this community. You're the ones who provide civic engagement, along with the churches."
Ford spoke about four value areas which provide a source of happiness and sense of direction that he read America has been losing since the 1970s: honesty, industriousness, religion, and marriage. Ford said Rotary was a good place to find these values, citing the club's Four-Way Test as an ethical guide, the industriousness of Rotarians, and the club's commitment to creating an awareness of the importance of the home and family. "We're not a religious organization, but since 1905 we have served as a moral compass for hundreds of thousands of Rotarians," Ford said.
Ford said increasing membership in Rotary Clubs was important because though other countries' Rotary Clubs are growing, America's clubs are not. He said District 6150 in Northeast Arkansas, which has 40 Rotary Clubs, has seen a membership decline of 287 in the last five years.
"Civic engagement in a community is so important," Ford said. "Small communities tend to do better in economic downturns when they have strong civic engagement."
In other business, the Marked Tree Rotary Club is gearing up for its Peggy Bankston Walk/Run/Ride on Saturday, Sept. 26. During this year's walk, there will be a dedication of a pink bench at the park near city hall in Peggy Bankston's honor, along with a proclamation from the mayor and a balloon release. This year's t-shirt design features a tree with 11 ribbons in it to mark the walk's 11th year.
The walk has been held every year since 2005 in honor of Rotarian Peggy Bankston, who died Aug. 16, 2005, of breast cancer. Proceeds from the walk benefit the Susan G. Komen Fund, as Bankston requested.
Registration begins at 8 a.m. The program and walk will begin at 8:30 a.m. behind First United Methodist Church. Rotarian Bonnie Thompson said 40 people had already signed up to participate in the walk.