Trumann officer replaces girl's stolen bicycle
Thursday, September 10, 2015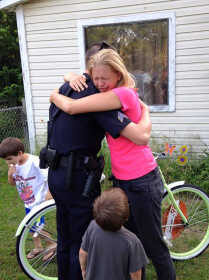 Too often, stories of good deeds get pushed out of the spotlight. But last week, Trumann was unexpectedly put on the map for something good, Police Chief Chad Henson told the Trumann City Council Tuesday. One of Trumann's officers, Sgt. Chad Mason, paid it forward with an act of kindness that went viral on Facebook.
Last Thursday, a 15-year-old Trumann girl's bicycle was stolen. The bike had been a Christmas present and was her only mode of transportation to school. Mason was the officer who took the report, and as a father himself, the incident particularly touched him.
Mason had asked the community for help with his son Cooper earlier in the year. Cooper has Asperger's Syndrome, for which his doctor prescribed an assistance dog. The Coopers reached out to the Trumann community for help in raising the $14,000 they needed to pay for the dog's training, and the community delivered. So when Mason saw how upset Gerri Rochester was over her stolen bicycle, he decided to pay it forward.
Mason used her description of the bike to buy one that was identical to hers at Walmart. He presented the bike to Rochester later that day on behalf of the TPD to pay forward the kindness his family had been shown by the community, and she hit the ground in tears.
The photos went up on the department's Facebook page and had gained around 1,256 comments, 8,325 shares, and 28,326 likes as of Wednesday morning. Chief Henson said their Facebook stats showed the post had reached 1.7 million people.
It's just one example of the good people do for the community. This time, that goodness didn't go unnoticed.