Billie Jean Fernandez
Wednesday, September 16, 2015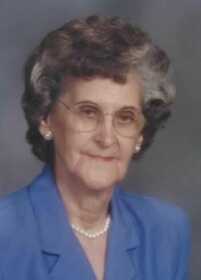 TRUMANN - Mrs. Billie Jean Linton Fernandez died Friday, Sept. 4, 2015, at St. Bernard's Medical Center in Jonesboro at the age of 89. She was born Saturday, May 1, 1926 in Hector, Ark., to the late William "Bill" and Mae Waller Linton and had lived in Trumann for one year and was formerly of San Marcos, Texas. She was a housewife and of the Baptist faith. She was preceded in death by her husband, Cosme Fernandez in 2014; one sister, Berneze Osman; and her parents.
She is survived by one brother, Kenneth Linton and his wife Wanda of Trumann; one sister, Lillian Fry of Pittsburg, Penn.; and several nieces and nephews.
Funeral service were Sept. 8 in the chapel of Thompson Funeral Home with Bro. Miles Evans officiating. Private burial followed in Jonesboro Memorial Park Cemetery in Jonesboro.
An online register book can be signed at www.thompsonfuneralhome.net.