Junior Wildcats move to 2-0 on football season
Thursday, September 17, 2015
Trumann moved to 2-0 on the young football season with a 36-8 win over Manila this last Thursday night at Wildcat Field. The game was delayed for over an hour due to inclement weather in the area.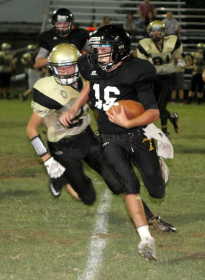 The Junior Lions got the ball first and moved it into Trumann territory before turning the ball over on downs. Will Ryan White had a big run moving the ball across midfield before a penalty brought the ball back to their own 44-yard line. Zac Buchanan scooted around the left end and sprinted 56 yards to put Trumann on the board fist with 1:34 left in the opening quarter. Cody Roland added the two-point conversion run to make it 8-0 Trumann. Manila answered the Junior Wildcats score with a touchdown run and two-point conversion to make it 8-8 with 51 seconds left. Trumann started their next possession on their own 38-yard line. Jesse Penter broke loose for a 48 yard run down to the Junior Lions 24-yard line. The quarter ended with the scored tied at 8-8 when the first lightning strike sent the teams to their locker rooms for about an hour and fifteen minutes.
Pick up a copy of the September 17 edition of the PCDT for full game story!