Marked Tree evens record with win over Harrisburg
Thursday, September 17, 2015
In a game that saw over 200 yards in penalties between the teams, Marked Tree's ground game churned out 347 yards on their way to a 26-14 win over Harrisburg (0-2) this past Friday night at Hornet Stadium in Harrisburg.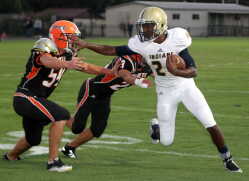 Marked Tree (1-1) got the ball to start the game and moved the ball down field converting three straight third down plays for first downs moving the ball to the Harrisburg nine-yard line. The Hornets forced the Indians to go for it on fourth down and with Blake Daniels' pass falling incomplete the Hornets took over on their own 14-yard line with 3:37 left in the quarter. Harrisburg netted two yards on their first two plays and an incomplete pass from Clay Wright on fourth down forced the Hornets to punt. Dylan Mathis mishandled the snap on the punt and a hard tackle by Jaylon Gunn knocked the ball loose with Richard Malone falling on it at the Harrisburg 10-yard line. Paul Coleman would help Marked Tree capitalize on the turnover scoring from 10 yards out with 1:56 left. Ramiro Rodriguez was good on the extra-point to make it 7-0 Indians. Harrisburg moved the ball to the Marked Tree 41-yard line on their next possession but an incomplete pass on fourth and six gave the ball back to the Indians. Marked Tree was on the drive when the fist quarter came to a close with Marked Tree leading 7-0.
Grab a copy of the September 17 PCDT for full football story!