New clues given for Wild Duck Scavenger Hunt
Thursday, September 24, 2015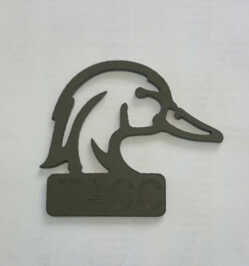 New clues are out for the Wild Duck Scavenger Hunt. Clues that have been given so far include: "Replica of duck head," "On the map...," "...follow the trail," "Flying ducks...," "...follow their bills," "6 ducks...," "...point the way," "One lies!"
New clues for this week appeared at at Rent One on Monday, Sept. 21, NAPA Auto Parts on Wednesday, Sept. 23, and Regions Bank on Friday, Sept. 25. Next week's clues will be at Unico Bank on Monday, Sept. 28, CustomEyes Vision Care on Wednesday, Sept. 30, and Southern Bancorp on Friday, Oct. 2.
The Trumann Chamber of Commerce's Wild Duck Scavenger Hunt will run throughout the month of September and the beginning of October, leading up to the Wild Duck Festival on Oct. 9 and 10. The object of the hunt is to find a wooden duck head hidden somewhere in the city. Whoever finds the duck head will win $900 in Duck Bucks spendable in Trumann Chamber businesses and a $100 gift certificate to Checkerboard Fine Gifts.
For more information, see the rules on the chamber's website at trumannchamber.org.