Trumann Family Health Center offering dental care to underserved
Friday, September 25, 2015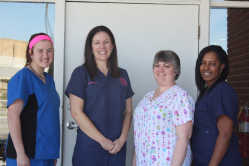 Trumann Family Health Center, part of East Arkansas Family Health Center (EAFHC), now offers dental care with Dental Director Dr. Hollice Burris seeing patients four days a week.
EAFHC opened as a non-profit medical provider in 1974 with dental services first added in 1978. The organization serves residents in Poinsett, Crittenden, Mississippi, and Phillips counties by providing healthcare and support services with an emphasis toward traditionally underserved communities.
The Trumann office, open since 2010, has been offering dental services for almost two months. Originally from Hughes, Ark., Dr. Burris always knew she wanted to be a dentist. She graduated from the University of Arkansas in 2000 and from the University of Tennessee College of Dentistry in 2004. She started working with EAFHC as a learning experience through the National Health Service Corps and decided to stay after falling in love with the work. She has been with EAFHC since June of 2004, starting in the West Memphis office. She split her time between the West Memphis office and Lepanto office for five years before working exclusively out of Lepanto in 2009 for another five years. Now she is seeing patients exclusively out of the Trumann office.
They offer services to patients with and without insurance and also have a sliding fee scale that allows for discounts to patients based on income. "We offer a lot of services to a section of the population that are uninsured or underserved," Burris said.
Read the full story in the Sept. 24 edition of the Poinsett County Democrat Tribune or read the paper digitally.