Junior Warriors stay unbeaten on the gridiron
Friday, September 25, 2015
EPC stayed unbeaten running their record to 3-0 with a 34-6 win over Midland in junior high football last Thursday night at Warrior Field in Lepanto.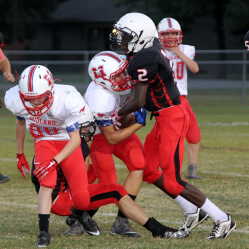 The Junior Warriors struck early as Adam McClain took the opening kick-off and returned in 71 yards for a touchdown just 12 seconds into the game for a 6-0 lead. The two-point try was no good. After EPC forced Midland to punt McClain hit a wide open TJ Bush for a 60 yard gain down to the Midland one yard line. McClain finished the short drive with a one yard run for the score. McClain and pushed hooked up again for the two-point conversion to make the score 14-0 EPC with 4:44 left in the first quarter. Again the Junior Warriors forced a punt and again EPC would strike quickly. McClain hit Jonathan Gilmore on a slant pass and Gilmore outraced everyone to the end zone as the quarter ended to make it 20-0. McClain found Hank Knapp for the two-point conversion to make it 22-0 Junior Warriors.
For full story pick up a copy of the September 24 PCDT!