Late goal line stand sends Wildcats to victory
Friday, September 25, 2015
Trumann's defense made a big goal line stand late in the fourth quarter to hold on for a 14-6 win over Paragould last Thursday in the last non-conference tune up before conference play starts. Trumann (3-0) will host defending conference champion Pocahontas on Friday.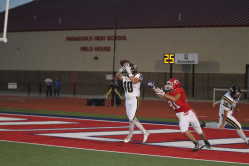 Cade Gartman's kick-off went out of bounds giving the Rams the ball on their own 35-yard line to start the game. Paragould drove down into Wildcat territory before Alex Santos intercepted a pass near the goal-line and was tackled at the Paragould one-yard line with 8:08 left in the first quarter. Trumann proceeded to drive 99 yards for a touchdown. Connor Haag twice kept the drive alive converting on fourth and short twice. Haag hit Kevonte Andrews on third and 13 for another big play to keep the drive going. The first quarter ended with the score 0-0.
Pick up a copy of the September 24 PCDT for full game story!