James "Jimmy" Shockley, Sr.
Monday, September 28, 2015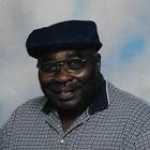 MARKED TREE - James "Jimmy" Lawrence Shockley, Sr., 77, of Marked Tree, passed away Wednesday, September 23, 2015, at the NEA Baptist Hospital, in Jonesboro. James was born on June 2, 1938, in Imboden, Arkansas, to Statin and Nancy (Rainey) Shockley. James was a truck driver and was known by his fellow drivers as Po' Cat. He was a loving husband, father, and grandfather.
James is preceded in death by his parents; brothers, Larry, Joe Henry, and Orville Shockley; sisters, Phyllis, and Lois Shockley.
James is survived by his loving wife, Dollie Mae (Watkins) Shockley, of the home; sons, Floyd (Diane) Shockley, of St. Louis, Mo., and James Shockley, Jr., of Jonesboro; daughters, Carolyn (Frank) Pugh, of Texas, and Helen Shockley, of Marked Tree; brothers, Darrell Shockley, of Marked Tree, Marshall (Rosie) Shockley, of Marked Tree, Leroy Shockley, of Chicago, Ill., and Louis Shockley, of Detroit, Mich.; grandchildren, Julanda, Ericka, Marcus, Phillip, Sierra, Brandy, and Franklin, Jr. A host of great grandchildren also survive.
Visitation and funeral services will both be held at the Fears Family Funeral Home, on Saturday, October 3. Visitation will be from 11 am -- 12 noon. A funeral service will begin at 12 Noon with Orival McClure officiating. Burial will follow in the Shockley Cemetery, near Birdell.
Marcus, Phillip, Floyd, James, Darrell, and Louis Shockley are honored to serve as pallbearers. All arrangements are under the direction of the Fears Family Funeral Home in Pocahontas.
Online guestbook: www.fearsfamilyfuneralhome.com