Dr. Underwood brings vet care to the home
Thursday, October 1, 2015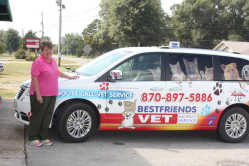 A pet can be a great companion, but what happens when the pet needs health care and the owners are homebound or unable to get it to the vet? For over a year, Dr. Norette Underwood, of Trumann Animal Clinic, has been answering that question by making house calls with the Best Friends Vet Mobile Service.
Dr. Underwood purchased the mobile service from Dr. Tammy Kennedy--who ran the service in Jonesboro for several years after working with Dr. Underwood--and has been making house calls through it since June of last year.
The service offers mobile vet care including routine vaccinations, wellness exams, and care for skin problems and minor illnesses. Anything serious gets referred to the hospital.
"It serves a very big need for older people and the homebound," Dr. Underwood said. "And there's a convenience factor for young people. I see people of all ages and backgrounds."
Dr. Underwood said the option of making a house call is also great for putting pets at ease, especially cats who don't like to leave the house.
See the full story in the Oct. 1 edition of the Poinsett County Democrat Tribune or read the paper digitally.